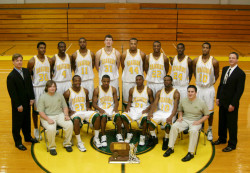 As part of the Paris Junior College 91st Homecoming, the 2005 NJCAA Men's National Championship Team will be inducted into the PJC Athletic Hall of Fame.
"These young men – players, managers and coaches – brought great attention to our College during their ascent to the junior college basketball championship in 2005," said PJC President Dr. Pam Anglin.
After entering the national tournament in Hutchison, Kansas unranked and virtually unknown, the Dragons flew the Texas Flag proudly as they claimed their hardware in post-game celebrations. The ceremony is scheduled Saturday, Nov. 14, at 2:30 p.m. in the McLemore Student Center Ballroom. The public is invited and encouraged to attend the induction.
Head coach Bill Foy and assistant coach Brad Enright led the Dragons. Players to be honored include Roderick Earls, Alexander Starr, Michael Battle, Tyler Best, Bobby Joshua, Brian Burrell, Donnell Franklyn, Charles Stoker, Lamar Searight, Rickey Quarles, and managers Tyler Jack Easthouse and Patrick Thompson.
"Several of these young men are making plans to come home to PJC for this celebration and reunion," said Dr. Anglin. "They live all over the United States, from Maryland to California and everywhere in between."
The team finished their Cinderella season with a 28-9 record. The 2005 team's photo will also be hung in the PJC Athletic Hall of Fame in the Hunt Center and be on display throughout homecoming basketball games on Saturday, November 14.
Homecoming events kick off with the Student Government Association Homecoming Parade at 4:00 p.m. on Nov. 12 and a pep rally at 5:15 p.m., both beginning at the Hunt Center. On Friday, Nov. 13 the President's Reception will be held from 5:30 to 7:00 p.m. in the McLemore Student Center Ballroom.
Saturday, Nov. 14 at 10:00 a.m. the annual Alumni & Friends Association board meeting will take place in the McLemore Student Center Cafeteria. At 11:00 a.m. the doors open at the Love Civic Center for the Distinguished Alumni Luncheon that begins at 11:30 a.m.
For information or tickets ($20) to the Distinguished Alumni Luncheon, call 903-782-0276 or email [email protected].