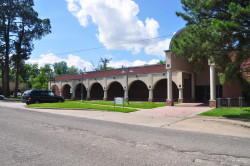 The Sulphur Springs Public Library and ECLC has teamed up and issued a challenge to the parents of preschoolers called 1K before K ! The challenge is to read 1000 books to your child before they start kindergarten, according to Librarian Hope Cain. Found at www.1000booksbeforekindergarten.org , it promotes early literacy skills and encourages parents and caregivers to provide positive, nurturing early experiences by reading aloud to their children regularly.
Cain says, research shows that the most reliable predictor of school success is being read to at home during early childhood. The brain develops more rapidly during the first three years of a child's life than at any other time during the lifespan. Reading to children from an early age can help close the vocabulary gap and prepare children to enter kindergarten with the skills they need to succeed. Most important, sharing books with children promotes a lifelong love of books and reading.
Additionally, Sulphur Springs Public Library has launched a Storytime for preschoolers to do just that, Cain said.  The curriculum encourages listening, movement, songs and books and even sends a take home sheet of ideas each session.  Preschool Storytime is offered at the Sulphur Springs Public Library on the first and third Fridays of every month at 10:30.
Sulphur Springs Public Library and ECLC launched 1 K before K in the spring of 2014 and were looking for a great response this school year.  Cain stated, "We have a little girl whose parents took the challenge and have read 1000 books to her…before Kindergarten!!!" The child and her parents will be at the library at 3 Friday afternoon for photos and prize presentation.