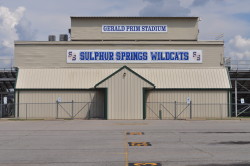 Adam Cook, the Head Football Coach for Whitehouse, expresses admiration for Wildcats Football Coach Greg Owens and the way he runs his program. Coach Owens also thinks a lot of Coach Cook. Their two teams will collide at Prim Stadium Friday night. Coach Cook said his Wildcats are much like the local Wildcats–young.
Whitehouse lost to Texas High in the first week of the season. Texas High is a district opponent for SSHS. He said the Tigers of Texas High are a good team and his squad learned much from the game. Cook said he wanted to see how his team would respond to a long road trip and to playing at Prim Stadium.
Against Chapel Hill, Whitehouse put up 51 points for a win. Cook expects the game Friday night to be a true challenge for his team.