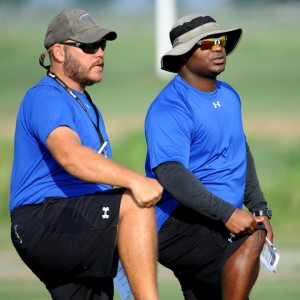 Wildcats Football Defensive Coordinator Triston Abron says he believes the defenders understand that when they ran their new defensive scheme right last Friday night, Rockwall-Heath had a hard time moving the ball.  Because of that he says the defense is about to get much better.  Concerning Sherman on Friday, Coach Abron says they have a large offensive line, a very tough quarterback and capable running backs.
Abron said that in the current Wildcat scheme there is no room for error. Abron noted that both players and he as a coach learned from the first game of the Wildcat season. Abron's lesson came from the fact that this is the most inexperienced group of players he has coached on the varsity level. He learned the need to slow the pace of the game for his younger players. For the players, it was learning to do exactly what the coach had taught them to do. Abron said when they were in place, Heath had a difficult time moving the ball.
Wildcat defensive line will have a difficult time with the Sherman center. Abron has a great respect for the Sherman quarterback.