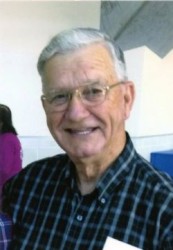 Mr. Thomas W. Boyd, Sr., age 84 of Pickton, passed away on Thursday, September 10, 2015. He was born on Saturday, June 6, 1931 in Pittsburg, TX to the late William Asa Boyd, Sr. and Mrs. Rena (Duncan) Boyd. He was a retired insurance agent for Reliable Life and American General and others during his career. He served honorably in the U.S. Air Force during the Korean and Vietnam Wars. He was a former member of the San Angelo Lions Club, and a member of Winterfield Baptist Church since 1981. He married the former, Virgie Ann Gunn on March 1, 1963 in Dallas.
He was preceded in death by his parents; four sisters, Martha Denson, Esther LaQuey, Pat Layman, Faye Myers; and a brother, William Asa Boyd, Jr.
He is survived by his loving wife, of over 51 years, Virgie Ann Boyd of Pickton; sons, Thomas W. Boyd, Jr. of Longview, William C. Boyd and wife Jennifer of Pickton, Anthony E. Boyd and wife Karon of Euless, Shawn D. Boyd of Kingwood; daughter, Angela K. Boyd Sevier of Como; fourteen grandchildren, and two great-grandchildren.
Visitation will be held from 2:00 to 3:00 PM on Sunday, September 13, 2015 at Winterfield Baptist Church, funeral services will follow at 3:00 PM with Bro. Jack Culpepper and Bro. Bill Miller officiating; interment will follow at Winterfield Cemetery.