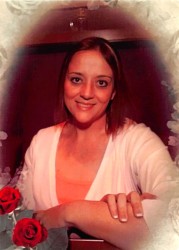 Funeral service for Shelba Lynn Wall Dobbs, age 32 of Ft. Hood, TX, will be conducted at 10:00 a.m. Thursday, September 17, 2015 at West Oaks Funeral Home Chapel with Rev. Al Davis officiating.  Interment will follow at Rockdale Cemetery with Neil Dobbs, Raymond Wall, Gary Brown, Will Nation, Huey Sessions, and Roger Adams serving as pallbearers.  Honorary Pallbearers will be Paul Kjelsberg, David Perez, Kyle Bush, and J. J. Watt, visitation will be held from 9:00 to 10:00 a.m. one hour prior to service.  Shelba passed away Thursday, September 10, 2015 at Ft. Hood, TX.
Shelba was born March 31, 1983, in Norman, OK, the daughter of Wesley Wall and Paula Adams Wall.   She married Derek Dobbs on September 10, 2003 in Humble, TX.  He survives.  She was a homemaker, graduated from Pflugerville High School, and had an Associates, Bachelor's and Master Degree from the University of Phoenix and was a member of the First United Methodist Church of Killeen.
In addition to her husband she is survived by son Matthew Dobbs of Ft. Hood, TX, a daughter Allyson Dobbs of Ft. Hood, TX, a brother Sean Gibson of San Angelo, TX, sisters Andra Arcenaux and fiancé Will Nation, of Sulphur Springs, TX, Tessa and husband Huey Sessions III of Ore City, TX, father and mother in-law, David and Abby Dobbs of San Antonio, TX, brother and sister in -law Neil Dobbs and wife Amanda of San Antonio, TX, numerous nieces, nephews, aunts, uncles, cousins, friends and pet dog named Rowdy and cat named Sissy.
She is preceded in death by grandparents, Meemaw and GrandPa Wall, Granny and Grandpa Adams, Mammaw Theda Reeves, aunts, Sunny Turner, Donna Graf and June Newcomb.
Arrangements are under the direction of West Oaks Funeral Home.