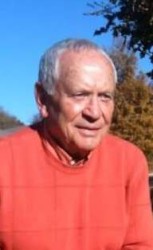 Memorial services for Roy Pelton, age 82 of Sulphur Springs will be held at 11:00 a.m. on Friday, September 25, 2015 at First United Methodist Church with Rev. Pete Adrian officiating.
Roy passed away on Saturday, September 19, 2015 at Craig General Hospital in Vinita, OK.
He was born on September 4, 1933 in Vernon, OH the son of Ralph and Vera (Morrison) Pelton.  He served in the U.S. Army, was a sales representative for Purina dog food, was a member of the First United Methodist Church and received a Lifetime Achievement Award.  He was well known to most of the people in the Weimaraner community for both his successful career and career in dogs but also for his generosity.  He began his interest in sporting dogs as a hunter with his friend's Weimaraners in 1953.  He purchased his first Weimaraner in 1957 from a friend and this became his foundation stud for the successful Birtzel Kennel.  He turned professional in 1971 and left the professional ranks in 1980 due to nagging injuries.  During his career, he handled dogs to three championship wins and eight of his charges became dual champions.  In 1973, he began to conduct two-day bird training seminars for expenses only and asked for a $100 fee to be split between the host club, their national affiliate and the Bird Dog Foundation.  He conducted over forty seminars across the U.S., Hawaii, Canada and Australia.  Only a handful of people know that he started corporate sponsorships of sporting dog clubs in 1982 beginning with dog equipment for Brittany auctions and then steaks for the NGSPA amateur banquet and has continued to grow.  Many sporting dog breed clubs continue to benefit from this generosity today.  He very quietly supported not just Weimaraners but all sporting breeds.  He did not do this for any personal recognition but simply because he loved Weimaraners and all sporting breeds, which is what the Lifetime Achievement Award is all about.
He is survived by his wife, Roxanne; step-children, Julie Long and husband, Frank of Sulphur Springs, Kellie Elder Tyson and husband, Wes of Idaho and Ginger Elder Cannon and husband, Ron of Kilgore and Jeff Teasley and wife Janice of Rockwall; grandchildren, Sam Long, Amy Long Houston, Shannon Teasley, Shelby Wilson, Robert Blakeley, Kirby Blakeley, Austin Smith, Travis Smith and Cody Cannon and sister, Mary Jane Wagner of Punta Gorda, FL.
He was preceded in death by his parents; previous wife, Dot Pelton and two sisters, Georgia Sturwold and Janice Pelton Byer.
Memorials can be made to the Bird Dog Foundation, Inc., P.O. Box 774, Grand Junction, TN 38039.