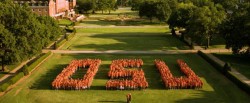 Texas high school students can now benefit from an increase in Oklahoma State University's Out-of-State Achievement Scholarship. The university has increased the scholarship by $1,000 in nearly every category, starting with students in the freshman class of 2016. Texas students will most benefit from the increase as 22 percent of OSU's current freshman class are from the state.
Oklahoma State's out-of-state assured scholarships are generous, ranging from $12,500 per year for a student with a 30+ ACT (1330+ SAT) to $8,000 per year for a student with a 24 ACT (1090 SAT). All out-of-state achievement scholarships require a 3.0 unweighted GPA. The award allows many out-of-state students to attend OSU for a cost similar or less than what they could attend an in-state institution.
Lauren La Rosa, an Oklahoma State freshman from Rockwall-Health High School, said the out-of-state achievement scholarship helped in her decision to attend OSU.
"The minute I stepped on campus, it felt like home," La Rosa said. "I am majoring in recreational therapy and psychology, and I toured the University of Alabama, the University of Tennessee and Texas Tech, but OSU had the best program. The out-of-state scholarship had a big impact. I have to pay for most of my college expenses, so it was a huge deciding factor. Everything added up at OSU."
To be considered for all scholarships at Oklahoma State University, students should apply online at admissions.okstate.edu. The priority scholarship application deadline is February 1, but students are encouraged to apply earlier as select scholarships are awarded prior to that date. The OSU application for admission also serves as the application for scholarships, so students do not need to complete multiple forms or applications.
"The application process is straightforward and we consider all students for scholarship opportunities," said Kyle Wray, Oklahoma State Vice President for Enrollment Management and Marketing. "We increased the Out-of-State Achievement Scholarship this year so Oklahoma State University is even more affordable for our Texas students."
Most importantly, the scholarship increase contributes to Oklahoma State's effort to fulfill its land-grant mission by making a high-quality education affordable for out-of-state students.
"Oklahoma State is considered the best buy in the Big 12 Conference and this scholarship increase continues to improve the value for students everywhere," Wray said.
For more information on this and other Oklahoma State University scholarships and financial aid, visit financialaid.okstate.edu.
Oklahoma State University is a modern land-grant university with more than 36,000 students across its five-campus system and more than 25,000 on its combined Stillwater and Tulsa campuses, with students from all 50 states and around 120 nations. Established in 1890, Oklahoma State has graduated more than 260,000 students who have been serving Oklahoma and the world for 125 years.