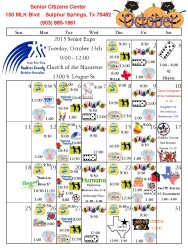 October 1st –
   "A Walk To Remember" will be on
Thursday, October 1st at 6:00 PM
  at the Gardens at Memorial Hospital.  All monies raised goes to fund Terrific Tuesdays Club.
October 5th
– ACTS of Love  
Monday, October 5th
from
11:00 – 12:00
    ACTS of Love is a Volunteer Groups..  ACTS stands for "Adults Coming Together Serving"
October 6th and October 20th
– Ling Dancing at
1:00
  Come out and get some good exercise while you are having fun with friends, listening to good music and learning something new.
October 7th

–
  1st Choice Home Health does Blood Pressure and Blood Sugar Checks on the first
Wednesday
of each month at
8:30 – 9:30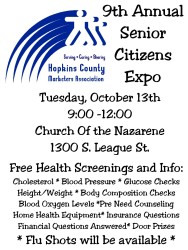 October 13th
   – Tuesday, October 13th from
9:00 – 12:00
   Senior Expo will be at the Sulphur Springs Church of the Nazarene 1300 S. League St.     Come out and get all kinds of FREE GOODIES, FREE SCREENINGS, FLU SHOTS and try to win one the 50 Door Prizes from the 50 Vendors that will be there.
October 15th

–
  Open Season for Medicare Part D will be from
October 15th – December 7th
.  I will be available to sign you up for a new plan during this time.  Please bring in your Prescription Bottles and Medicare Cards between those dates.    I will put everything into the computer and let you know the best Medicare D Plan for you.
October 17th through October 24th
   will be the week of Hopkins County Fall Festival.  The Fall Festival Parade starts at
10:30
at Buford Park.  Festivities will be going on all week at the Civic Center for you to enjoy.
October 19th

–
    "Basics at Brunch" will be starting at
10:30
at the Senior Center.   Kristen Ishihara, John Ross, and Lisa Shoalmire, Elder Law Attorneys from Ross and Shoalmire  will answer all your questions.    Their topic will be "The 5 BIG mistakes… and how to avoid them".    Brunch will be provided by Rock Creek Health and Rehab and Exeptional Home Health Care.
October 20th
  –  Senior Citizens Night at Hopkins County Fall Festival will be held at the Hopkins County Civic Center.  BINGO will start at
4:00
.. Supper will start at
5:00
and a Concert with Monty Tipps and Mainstreet will start at
6:00
.   Cost of event will be $ 8.00   This will pay for Supper and BINGO.   The Hopkins County Marketers Association is Sponsoring the Concert.     They will have $ 500.00 worth of drawings for door prizes.   The 4 drawings will be for $ 250.00— $ 100.00—- $ 100.00  and $ 50.00.   I hope you guys will come out and have a great time and have good luck winning one of these 4 WONDERFUL door prizes.
October 21st

–
   David Kirkpatrick, Insurance Benefits Consultant with Humana will be at the Senior Citizens Center from
11:00 AM until 4:00
to answer all your questions regarding Medicare Advantage  Plans and Medicare  Part D.
October 24th

–
  Earl W. Martin 42 Tournament will start at
1:00 PM
at the Senior Citizens Center.    Cost is 10.00 per team.  Entry forms are at the Senior Citizens Center.
October 28th

–
  Carter Eye Care Bus will be at the Senior Citizens Center from
10:00 – 1:00
.  No appointment is necessary.    First come First serve bases.
October 29th

–
Dr. Lenington will be doing FREE Screenings from
12:00 Noon – 3:30
.  If you have made an appointment don't forget.     Let me know if you can't keep your slot.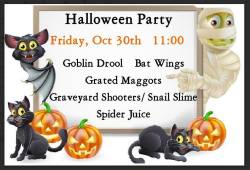 October 30th –
  Halloween Party will start at
11:00
..  I will be serving Goblin Drool, Bat Wings, Grated Maggots, Graveyard Shooters with Snail Slime and Spider Juice to drink.     If you want to dress up we will have a Costume Contest for the Best Dressed, Most Original, Funniest and Scariest.  Please email me back or call me and let me know if you plan to attend.  I will have to start gathering up Bats, Maggots and Goblins to Cook.