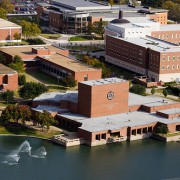 COMMERCE, TX— On September 24, 2015 at 7 p.m. in Ferguson Auditorium on the campus of Texas A&M University-Commerce, the Recovery Month Celebration Committee, Department of Psychology, Counseling, and Special Education, Alpha Phi Alpha Fraternity, A&M Commerce Athletic department, and Commerce High School will sponsor Recovery Month Celebrations with guest speaker Nate Newton, former Dallas Cowboy football player.
Nate Newton played for the Cowboys from 1986-1998 and is a three-time Super Bowl champion, six-time Pro Bowl team member and two-time first team All-Pro team member.
Recovery Month promotes the societal benefits of prevention, treatment and recovery for mental and substance use disorders, celebrates people in recovery, lauds the contributions of treatment and service providers and promotes the message that recovery, in all its forms, is possible.
"For those struggling with addiction, help is available. Recovery Month Celebration highlights the importance of 'hope after dope.' Alcohol and drug addiction is a brain disease that impacts all facets of society. Drugs do not discriminate in the areas of socio-economic status, race, creed, ethnicity or gender," said Dr. LaVelle Hendricks, associate professor of counseling.
Recovery Month spreads the positive message that behavioral health is essential to overall health, that prevention works, treatment is effective and people can and do recover.
For more information, please contact Dr. LaVelle Hendricks at [email protected]