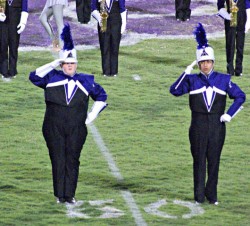 Friday night, September 18, 2015 will end a busy Homecoming Week for Mount Vernon High School students. Students decorated hallways with super hero, black out, jungle, and fire themes as part of a week-long spirit contest. Dress-up days have been going on all week with Neon Day, Warrior Day, Crazy Hat Day, Geek/Gamer Day, and Spirit Day.
Four seniors are competing for the title of Homecoming Queen. Nominees are Kara Hollingsworth, Tori Mitchell, Selena Romero, and Jamie Seawright. Junior Duchess is Bradyn Loy. Braylee Bills is Sophomore Duchess. Kristina King is the Freshman Duchess. The winner will be crowned during pregame ceremonies before the Tigers play the Lone Oak Buffaloes at Don Meredith Stadium.
Five members will be inducted into the Franklin County League of Honor during halftime ceremonies. Those being inducted will be Nancy Smith, Marilyn Elbert, Billy Jordan, George Wims, and Mike Harper.
The Tiger football team is looking to continue improving as they kick-off against the Buffaloes at 7:30 pm. Turnovers plagued the Tigers last week against Hooks. Tiger defensive players look to continue adding to their sacks and hurry stats this week. Offensively Trey Wickware led the Tigers with 7 carries for 64 yards.
Lone Oak has a good offensive and defensive line, but like the Tigers have been dealing with injuries according to Head Coach Dickey Meeks.
(by Kellee Cannon, MVHS Senior/KSST intern)