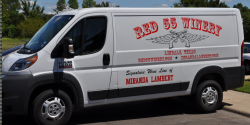 Red 55 Winery in Lindale, Texas began when recording artist Miranda Lambert was approached by a company to brand a wine. Lambert was not 21 at the time, so she asked her parents what to do.
Her parents decided to begin their own winery. They approached Susan Jones who had begun her work as a vintner as a hobby. The Lambert's were introduced to Jones in 2003 by Casey Musgraves.  Jones started a vineyard and worked with it part time. When she retired from Raytheon after 27 years, Jones began pursuing her hobby full time. Jones stopped by KSST studios recently.
The name Red 55 comes from Lambert's love affair with a red '55 pickup truck. She fell in love with the truck when she was 16-years old. Her parents purchased the truck, which is still owned by Lambert.  Miranda Lambert's and her brother's interest in the winery is increasing. The family follows the same recipes but is increasing their variety. The parents want to leave a legacy for their family, according to Jones.
Currently 7 wines are produced including a Merlot, Cabernet Sauvignon, Unoaked Chardonnay, Pinot Grigio, Zinfandel, Sweet Red and Sweet White.  A premium estate wine is being developed using grapes grown in the Winnsboro area. The majority of grapes used in Red 55 wines come from over 400 acres near Brownfield, Texas. Hot days and cool nights are needed to grow grapes. Jones said, "That's what makes West Texas a prime area for grapes."
For more information red55winery.com
Jordan Owens interviewed Susan Jones on Drive Time with Jordan Owens: