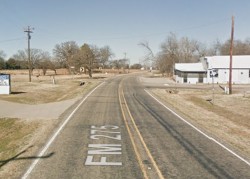 Not too much news in the Grove this week. School is rolling along nicely and everyone is counting the days until Thanksgiving break, I'm sure.
Please remember to keep Faye Tipps in your prayers. I visited with her Saturday and she seemed to be feeling so well but she got sick in the night and has not been well since.
I also saw Barbara Lynn Saturday while I was in Sulphur Springs. I was getting 2 new tires for my truck and she walked in and we visited for a while. She said her oldest grandson, Jim, is going to school to be a physical therapist and has worked some at Carriage House Manor.
Happy Belated Birthday to my cousin, Margaret (Darrow) Cain, on Sept. 27.
I would like to wish a Happy 13th Anniversary to Jason and Baden Shackelford on Sept. 28.
As you travel the highways and byways don't forget that all roads lead back home and back to Miller Grove. Please send me any newsworthy information. My email address is [email protected].