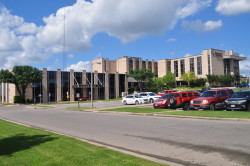 Hopkins County Memorial Hospital CEO Michael McAndrew gave a partnership update to the board Monday night.  He said Ethical Religious Directives (ERD) are moving along in a good direction.  McAndrew said the hospital and CHRISTUS now expect to get more focused.  An agreement isn't expected by the end of October.  No new date has been set.  McAndrew said everything is moving along.
He stated the building of a $2-million surgical suite has been put on hold. Two of the doctors that perform procedures that necessitated the additional surgical area have stated they will seek to change their practices to meet the ERD agreement. The issue was tubal-ligation. The doctors have said that patients will be told upfront that if they desire a tubal ligation,  it will be performed six (6) weeks post-birth and will take place in the ambulatory day-surgery area.
McAndrew said now they will move to definitive language in the agreement. He stated that he will be worked out the agreement with Jeff Potter, a representative of CHRISTUS. McAndrew said a fair market evaluation has been performed.