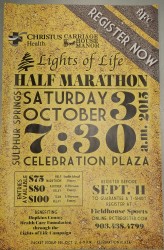 The 2015-2016 Lights of Life Campaign is hosting the 2nd annual Half Marathon relay benefiting the campaign.  The official US Track & Field Certified Half Marathon is one of the mini-events added to the 2015-2016 campaign.  The only half marathon relay in Hopkins County, the run is scheduled for Saturday, October 3, 2015, 7:30a.m. – 12 noon. The course will be repeated twice and will start and finish on Celebration Plaza.  "Our goal is to encourage out of town visitors to Sulphur Springs to enjoy our community and contribute to our hospital" said Jackie Thornton, Foundation Director.
"We are thrilled that we are having our 2nd half marathon relay.  The 1st one was very successful and the participants left requesting a repeat!   We're even more thrilled that Holly Ragan, who has been very successful with coordinating many 5K runs, including the annual Turkey Trot, agreed to chair it for the 2nd year" stated campaign chair Donna Rudzik.
"What excites me is that this run is the 1st official "certified" half marathon run in Sulphur Springs.  We paid extra to have the course certified so we would attract everyone from the social runner, to the serious runners who are training to qualify for more advanced/elite marathons. Our primary goal is to get local runners involved with the campaign and possibly bring out of town runners to Sulphur Springs to enjoy Celebration Plaza, eat at our restaurants and stay in our hotels" said Jackie Thornton, Foundation Director.  "The community gives so much to the Foundation, and we think involving our restaurants and hotels is a way we can give a little back to them".
On Friday night between 6-9p.m. when participants come to pick-up their runner packets, several of the downtown restaurants will be offering carb-loaded specials.  Participating restaurants are:  Lou Viney (10% off with race bib), Bayou Jack's,  Burger Grind, Mama Faye's, Muddy Jakes and IdziBitsy Bakery (Free Ice Cream with purchase). Also on Friday night, the run committee will host a movie night on Celebration Plaza.  The community is invited to join the runners 6-9p.m. to watch the movie "Forrest Gump….run Forrest run".
Breakfast will be available Saturday morning at Coffee Off the Square and Plain & Fancy.  Head 2 Toe Nutrition will be open 6:45a.m. to 10a.m. offering a variety of pre & postrace nutrition.
"This is a race chip timed event and runners have been registering at Field House Sports or online through the website, www.rctregister.com.  Our long range goal is to grow the run into an annual event that will bring many locals runners and out of town runners to Celebration Plaza," continued Thornton.
"We encourage all level of runners and/or walkers to participate.  You do not have to be a marathon runner to participate.  We encourage those who prefer the shorter distance as well!  That's why we are incorporating relay entries.  An individual can enter for $75 to complete the entire 13.1 miles;  a 2-man team registration fee is $80, ($40 a person) each running/walking 6.5 miles; and the 4-man relay team fee is $100, ($25 a person) with each running/walking 3.2 miles each," stated marathon chair, Holly Ragan.  "We want to encourage businesses to enter a team. They can wear their company t-shirts and show their company team spirit" she continued.
Each participant will receive a race tech t-shirt, guaranteed if they registered by September 11th,  and a finisher medal.  Awards will be offered for best overall individual times in all age categories, plus partner entry awards, and group entry awards.  Carriage House, CHRISTUS Health and GSC, Inc. are our Diamond Sponsors of the campaign this year.  Toliver Ford and Wesley House Assisted Living have joined in as Endurance and nineteen committed to be Sprint Sponsors of the run.  We'll have six water/aid stations along the route that not only encourage and cheer for the runners but they will offer energy snacks. Our water/aid stations sponsors include;  24 Hr. Gym, Wesley House Assisted Living, Sulphur Springs Health & Rehab, Thunder Country/The Way Radio Station, Hopkins Place Assisted Living, and Dixon & Dixon Ins. & Real Estate.
Funds raised through the half marathon mini-event will go toward the $250,000 Lights of Life 2015-2016 campaign goal.  The funds raised will be used to purchase:
6 LUCAS CPR devices for EMS which will provide the EMS Department the tools and abilities to improve survival rates during cardiac arrest. The LUCAS CPR provides consistent and quality chest compressions without the need to stop compressions to perform other clinical procedures.
And add additional funds to the Health Care Foundation "Leaving a Legacy" Endowment Fund.
"We're excited because the community is really getting behind our second half marathon.  The city and local law enforcement have done an exceptional job of accommodating our route and ensuring runner's safety and of course Memorial Hospital EMS team will be on hand in case there are any mishaps.  We're praying for cooler weather because everyone have pitched  in to help ensure a successful run" continued Ragan.
Registration is still available at Field House Sports or online at www.rctregister.com. Call the Foundation office, 903-438-4799, for more information.   We hope you, your company, church group or friends will join us as we continue our efforts to make a difference for our hospital and the community.