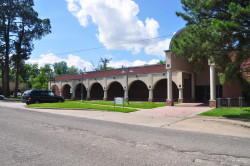 *Snoopy is Honorary Chair for National Library Card Sign Up Month September 2015 and wants to remind parents that a library card is the most important school supply of all. Come by Sulphur Springs Public Library, get your child a library card, get some free food coupons and pick up a Snoopy bookmark!
Libraries play an important role in the education and development of children. Studies show that children who are read to in the home and who use the library perform better in school and are more likely to continue to use the library as a source of lifetime learning.
Librarians are literacy experts. Libraries offer a variety of programs to stimulate an interest in reading and learning. Preschool story hours expose young children to the joy of reading, while homework centers provide computers and assistance to older children after school. Summer reading clubs keep children reading during school vacation and have been shown to be the most important factor in avoiding the decrease in reading skills that educators refer to as "summer learning loss."
*Food for Fines is back!  We have teamed up with Community Chest to fill their shelves.  Food for Fines program is very simple.  If you have library fines for late items, you can pay those fines using nonperishable food.  One nonperishable item is worth $1.00 in library fines.  We collected over 120 cans of food last year and it went a long way in stocking those pantries.  Hurry, Food for Fines ends September 30.