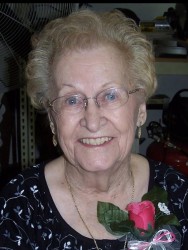 Funeral Services for Lena Katherine Smith Formby will be held at 2:00 p.m. Sunday, September 20, 2015 at Cumby Methodist Church with Rev. Duncan Graham officiating. Interment will follow at Cumby Cemetery with John Smith, Eric Smith, Dustin Smith, Ryan Smith, Gordon Ensley, and Danny Beasley serving as pallbearers. Keith Smith will serve as an honorary pallbearer. A visitation will be held from 6:00-8:00 p.m. Saturday, September 19, 2015 at Tapp Funeral Home.
Mrs. Formby passed away Friday, September 18, 2015 at Hopkins County Memorial Hospital. She was born May 16, 1925 in Cumby to Henry and Ibra Beasley. She married Oneal Smith in Cumby on July 3, 1943; he preceded her in death in 1981. She later married Billy Paul Formby; he preceded her in death, and Phillip Payne, who also preceded her in death. Mrs. Formby was a Homemaker and member of the Cumby Methodist Church.
She is survived by: sons, Ronny Smith and wife, Judy, of Sulphur Springs, Steven Smith and wife, Carol, of Cumby; daughter, Paula Ferrell and husband, Bruce, of Sulphur Springs; grandchildren, Tammy Smith, Keith Smith, Angie Wilson, Ryan Smith, Lori McAfee, John Smith, Eric Smith, Dustin Smith, and Erin Vermillion; great-grandchildren, Abby McAfee, Savanna McAfee, Taytum Smith, Brooke McGee, Blake Chester, Haylee Chester, and Emma Vermillion; sister, Ozell Ensley; and brother, Bill Beasley.
She is also preceded in death by: step-mother, Bessie Beasley; brothers, Duane, Fred, Morris, Theodore, and R.L. Beasley; sister, Jean Duvall; and great-grandson, Jaden Chester.
Arrangements are under the direction of Tapp Funeral Home.