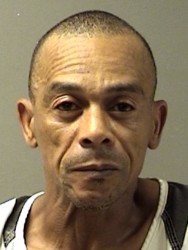 Sulphur Springs Police Detective Sgt. David Gilmore arrested 51-year old Darrell Lynn Payne of Sulphur Springs last Thursday for two counts of attempted sexual assault. The case involved boys ages 14 and 15.
The two boys told their parents of the incident and the parents reported to police that a neighbor who lived down the road had proposed committing a sex act on the boys September 4th. He confessed to doing what the victims reported. Gilmore said most cases of this type are reported much later than the occurrence. Gilmore said these two reported it immediately to the parents. The boys gave identical statements which were confirmed when the perpetrator confessed.
Gilmore said the two boys did exactly what they should have done in resisting and reporting it instantly to their parents. As of Monday afternoon, Payne remains in Hopkins County Jail on $30,000 bond for each charge. As a stipulation of bond should he be released, Payne must wear a GPS device so he can be tracked by lawmen.