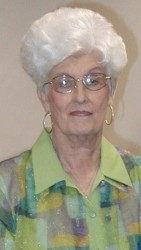 Funeral services for Johnnie Mae Inman Froneberger, age 81, of Sulphur Springs will be conducted at 11:00 a.m., Saturday, September 26, 2015 at League Street Church of Christ with Minister Jerry Savage and Buddy Wiggins officiating. Interment will follow at Sherley Cemetery with serving as pallbearers.  Visitation will be at 10:00 a.m., one hour prior to service time at League Street Church of Christ.
Johnnie passed away Tuesday, September 22, 2015 at Carriage House Manor.  She was born on July 23, 1934 in Denton, TX, the daughter of John W. Inman and Ethel Jolly Inman.   Johnnie married Murry Froneberger on August 6, 1952 in Sulphur Springs, TX.  He survives.  Johnnie started working for Perry Brothers in Munday, TX, then started working for GTE and was named Employee of the Year for GTE Southwest Region in 1980.  After leaving GTE she went to work for Farmers Co-op managing the appliance department.  She won a National Sales Contest by selling the most Whirlpool appliances and won a trip to the Canary Island.  She also worked for her son, Doug Froneberger in his law office for several years.  Johnnie was a member of the League Street Church of Christ.
In addition to her husband, she is survived by three sons, David Froneberger and wife Patti of Carrollton, TX, Doug Froneberger and wife Alison of Waco, and Dan Froneberger and wife Kathy of Sulphur Springs, 9 grandchildren and 9 great-grandchildren, brothers, J. W. Inman of Carrolton, GA, and Joe Inman and wife Linda of San Antonio, TX, sister, Dollie Inman Thornton and husband Jim of Ardmore, OK, and numerous nieces and nephews.
She was preceded in death by her parents.
Arrangements are under the direction of West Oaks Funeral Home.