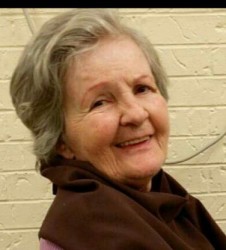 Jacqueline Cecelia Ramsdell, age 72, of Sulphur Springs passed away on Friday, September 18, 2015 at Hopkins County Memorial Hospital.
She was born on January 28, 1943 in Kane, PA, the daughter of John Earl Lubold and Angeline Cecelia Rich Lubold.   Mrs. Ramsdell worked at one time for Newburn Sun Journal as an illustrated artist, she also worked in sales and was a homemaker.  She was a very talented artist who loved to paint.  She was a member of Jesus Christ of Latter Day Saints.
She is survived by sons, Robert Alan Schrubb and wife Melissa of Hurst, TX, John Carl Schrubb and wife Londa D. of Leesburg, TX, Daniel Eric Schrubb and wife Priscilla of San Antonio, TX, and daughter, Angela J. Matthews and husband Duffy of Santa Ana, CA, brother Bob Lubold and wife Charlotte of Chico, CA, sisters, Donna Aderman and Barb Height both of Erie, PA, 12 grandchildren and 8 great-grandchildren.
She was preceded in death by her parents, and brother, Mick Lubold.
Cremation arrangements are under the direction of West Oaks Funeral Home.