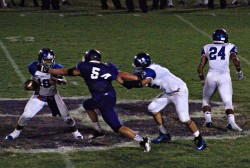 Mount Vernon was looking to add a win to their record, Friday, September 11, 2015. Despite holding the Hooks Hornets to 14 points, the Tigers failed to overcome a few mistakes and were unable to win the game.
The Hooks Hornets took their opening drive from the 55 yard line scoring on a 15 yard pass. The point after was good giving Hooks a 7-0 lead with 9:27 remaining in the first quarter.
After each team trading a series of downs, an illegal contact penalty gave the Tigers the ball on the Hornet 27. The Tigers moved the ball to the 8 yard line for a first down. After Quarterback Bailey Floyd was sacked at the 15, the Tigers went four and out.
On the Tigers next possession, they lost the ball on a fumble. Hooks recovered the ball near midfield. Two plays later, Patrick Hoffman made it through the line to sack Hooks quarterback Jordan Johnson. On the next play, Ty'Reese Linwood intercepted a tipped ball.
The Tigers converted on a fourth down and short yardage on a run by Noah Craver. The Tigers did a halfback pass between Floyd and Bryce Crow. Crow carried the ball to the 25 yard line. Trey Wickware advanced to Tigers to the 14 yard line. Floyd's next pass to Linwood was intercepted in the end zone.
Starting the second half down 7-0, the Tigers were unable to advance down the field. They were forced to punt.
Hooks' attempt at moving the ball was ended on a fourth and ten with a quarterback sack by Austin Decker. The Tigers took over on downs at their 46. However, they were unable to covert.
On Hooks' next possession, Hoffman got to Hook's quarterback on and forced a punt situation giving the Tigers another chance on the 43 yard line.
Dylan Rogers advanced the Tigers three yards on the second play of the drive. A personal foul penalty moved the Tigers to the Hornet 38. Floyd's pass on the next play was intercepted by Montrel Estelle and returned for a touchdown with 4:48 remaining in the game.
As time expired on the clock, the score ended with Hooks on top 14-0.
Hooks record moves to 2-1 while the Tigers are 0-3.
The Tigers will face Lone Oak for Homecoming, at 7:30, Friday, September 18, 2015 at Don Meredith Stadium in Mount Vernon.