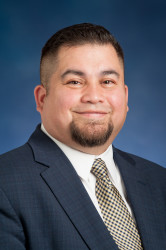 COMMERCE, TX—A&M-Commerce has hired Dr. Fernando "Fred" Fuentes Jr. as the assistant dean of Enrollment Management for Hispanic Outreach and Retention. Throughout his career at A&M-Commerce, Fuentes has worked successfully as a therapist and co-created the international travel abroad program, Sophomore Year Experience.
"With Dr. Fuentes' expertise in student services and private industry, the students serviced by the Office of Hispanic Outreach and Retention will flourish," said Dean of Enrollment Management and Retention, Dina Sosa.
Fuentes was the first in his family to graduate from high school. He began his career serving as a U.S. Army soldier in various Military Police Battalions throughout the U.S. and in international bases. Fuentes also worked as a USAID/Global Health Fellows Program Fellow with Mercy Corps International in Guatemala and Honduras where he provided HIV/AIDS education and empowerment of post-conflict, rural, indigenous youth. Fuentes moved to East Texas after working in Washington D.C. as a senior inclusion and diversity officer.
"I'm excited about joining a team of successful colleagues, impressive student leaders and an administration that is supportive and engaged in our goal to become a Hispanic Serving Institute," said Dr. Fuentes. "This university means so much to my family and me. East Texas is where we raised our children, grew as a family and earned our degrees. We are mostly excited about our children joining the Lion Pride as future university students."
Fuentes has been a foster parent to more than 15 children over the course of six years, including two children who are now a permanent part of his family.