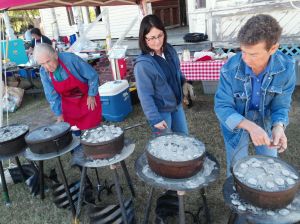 The annual Indian Summer Days returns to Heritage Park on Saturday, October 3. An integral part of the event is the annual John Chester Dutch Oven Cookoff. Cookoff organizer Rick Wilson was Enola Gay's guest on KSST's Good Morning Show Tuesday morning.
Wilson said the Dutch Oven Cookoff will kick-0ff the Fall season. A new division has been added for youth 16-years of age and under. Those in the youth division will cook only one pot. Wilson said he has wanted a division for youth. Winners in the youth division will receive a Dutch Oven.
More space has been added for the cookoff. Northeast Texas Farmers Coop, City National Bank, Farm Bureau, and Texas Heritage National Bank sponsor the event.
To enter the event, call Wilson at 903-885-9692 in the evenings or 903-335-2752.