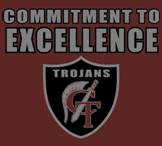 Crisis Over:    Click here to see updated story
Cumby schools are in lockdown to ensure the safety of their students due to a police matter according to a school spokesperson. The schools were placed in lockdown at 9:30 a.m. Thursday when notified of a police standoff a few blocks away.
A warrant service on an individual on Commerce Street in Cumby resulted in the individual barricading himself. Hopkins County Sheriff's officers, Cumby Police, and others have responded to the situation. Commerce Street and Main Street in Cumby are close with Cumby Volunteer Firemen manning the barricades.
A resident on Tarrant Street reported hearing 13 shots nearby, some faint and some louder beginning at about 11:30 a.m. The neighborhood has been shutdown and those living in houses near the Commerce Street house have been evacuated.
On the Cumby school campus, classes are continuing according to schedule and the elementary students are eating lunch at their regular time. For the high school, lunch will be taken to their building according to the spokesperson. She stated this was being done to ensure the safety of the students.