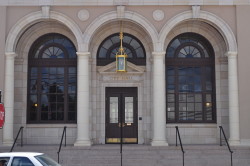 The Sulphur Springs City Council passed key ordinances on first reading for the budget for next fiscal year at a regular meeting Tuesday night. Mayor Kayla Price explains what the ordinances deals with and then there are responses from city Director of Finance Peter Karstens on the first three and then from city Human Resources Director Gordon Frazier on the fourth one. Councilman Craig Johnson also asks some questions.
The ordinances for the budget are expected to be finalized on second reading at a special meeting on September 29.
At Tuesday night's regular meeting of the Sulphur Springs City Council, City Manager Marc Maxwell gave the council his monthly Manager's Report full of information.
STREETS, WATER AND SEWER – The Davis Street wateriine replacement project is nearly complete. I expect it to be finished by Friday. After the water main is finished we will prepare the street for asphalt repaying in the summer paving program. This project replaces 1, 500 feet of water main on North Davis from Park to Glover.
The annual summer paving program is about to kick off. Texana Land and Asphalt anticipates paving the following streets this month:
Live Oak                                                                       Helm to Dead-end                                                                           91,779
Waco                                                                             Industrial to Lee                                                                             24,600
Vonda                                                                           Mockingbird to Wright                                                                  35,042
League                                                                          Main to Bellview                                                                              78,272
Carter                                                                           College to Fuller                                                                               17,057
S. Davis                                                                       Kyle to Lee                                                                                         82,529
Woodlawn                                                                  Locust to Mulberry                                                                          57,601
Jill                                                                               College to dead-end                                                                          41,435
West/Joyce                                                               Shannon to McCann                                                                          52,721
S. Moore                                                                     Tate to Barbara                                                                                  54,909
Finney                                                                          League to Sunset                                                                              25,325
TOTAL                                                                                                                                                                                  $561,268
The Rockdale Road reconstruction project is underway. The water line installation is nearly complete. After that, the street will be reconstructed with reinforced concrete. You might recall that in the past five years we have replaced two out of four segments of Rockdale Road (on the north side of the interstate). This project will reconstruct the remainder of Rockdale Road.
Bill Bradford Road is on-deck. At an estimated cost of $1. 4 million, this is a major project. It will include a new water main, a new sewer main, drainage improvements and a new asphalt
street.
CLAIMS – We did not have any worker's compensation claims in August. We had one liability claim in August relating to the death of Tony Chance Ross. We have submitted it to the TML risk pool. We submitted a claim to TML for damage at the water treatment plant from a recent lightning strike.
CITY BUSINESS OFFICE – We're almost done. Move-in day is set for this weekend.
WASTEWATER TREATMENT PLANT – Total suspended solids (TSS) came in at 1. 44 mg/L, well within the limit of 12 mg/L.
REVENUES AND EXPENDITURES – Finance Director, Peter Karstens will present the year-to-date summary of revenues and expenditures.
Elsewhere around the city, employees:
. Patched 111 potholes.. .take that Scott Keys.
. Replaced several signs in school zones around town.
. Painted crosswalks and school zone lines at all schools.
. Trimmed trees that were blocking the view of signs in all school zones.
. Re-programmed school crossing lights.
. Boom-shredded several streets around town.
. Shredded at airport.
. Cleaned up crash site at the airport.
. Fertilized all grass and trees downtown.
. Trimmed trees and shrubbery downtown.
. Repaired the fountain.
. Stained downtown benches.
. Removed the stains from vandalism on the Hopkins County Veterans Memorial.
. Repaired the beacon light at the airport.
. Repaired crosswalk lights on Church Street.
. Performed preventative maintenance on numerous items at the wastewater treatment
plant.
. Repaired the entry gate at Coleman Park.
. Repaired 23 ruptured water mains.
. Replaced 13 water meters.
201 N Davis Street, Sulphur Springs, TX 75482 . 903.439.3700 . sulphurspringstx.org Page 2
Unstopped 18 sewer mains.
Repaired 4 sewer mains.
Flushed 36 dead-end water mains.
Performed preventative maintenance on various mechanisms at the water treatment plant.
Opened 17 code enforcement investigations.
Sold 1, 560 gallons ofAvGas and 4, 100 gallons ofJetA fuel.
Processed 629 tickets through municipal court.
Placed 100 cubic yards of top dressing on fields at Coleman Park.
Sprayed athletic fields with pre-emergent.
Responded to 125 fire/rescue calls including 1 structure fire.
Performed preventative maintenance on 83 fire hydrants.
Issued 41 weed/brush citations.
Made 96 arrests, recorded 106 offences, responded to 33 accidents, and wrote 629 traffic citations.
Achieved a 40% adoption rate at the animal shelter.
Made 4 felony arrests in the special crimes unit.
Checked out 3,641 materials from the library.
Began holding Story Time on first and third Fridays at 10:30 a.m.