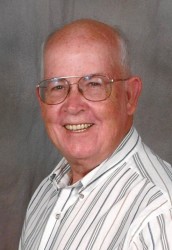 Funeral services for Bobby L. Williams, age 78 of Sulphur Springs will be held at 12:00 p.m. (Noon) on Thursday, October 1, 2015 at Murray-Orwosky Funeral Home with Rev. Charles Rawlinson officiating.  Interment will follow at Bethel Cemetery near Winnsboro with John F. Doyle, John M. Doyle, Kevin Nolen, Joe Wilson, Robert Dyer and Bill Campbell serving as pallbearers.  Visitation will be held one hour prior to the service at the funeral home.
Bobby passed away on Tuesday, September 29, 2015 at Sunny Springs Nursing Home.  He was born on August 8, 1937 in Electra, the son of James Henry and Inez (Gonce) Williams.  He married Emma Mae Campbell on August 8, 1979 in Dallas.  Bobby was a warehouseman and a member of the Independence Baptist Church in Dike.
He is survived by his wife; sons, John Williams of Plano and John Doyle of Murphy; daughters, Sherry Sheppard of Tyler and Angela Nolen of Kaufman; five grandchildren, Kevin, Kaylyn, John, Ashley, and John Robert and two great-grandchildren, Truleigh and Grayson.
He was preceded in death by his parents; two sons, three brothers and one sister.