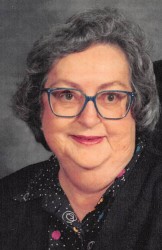 Funeral services for Betty S. Chambliss, 80, of Cumby, will be held at 2:00 p.m., Thursday, October 1, 2015 at Cumby United Methodist Church with Bro. Howard Strickland officiating. Interment will follow at Cumby Cemetery with Lane Gilbert, Shane Gilbert, Cody Talley, Johnny Carter, Steve Smith, Eric Smith, Ronny Petty and Rusty Vaughan serving as pallbearers.  Visitation will be held from 7:00 to 9:00 p.m., Wednesday, September 30, 2015 at West Oaks Funeral Home.
Betty passed away on Sunday, September 27, 2015 at Kindred Hospital in Dallas, TX. She was born on May 23, 1935 in Greenville, TX, the daughter of Matthew Cross and Minnie Lee Browning Cross.  She married Kenneth Joe Chambliss on December 22, 1955 in Cumby, TX.  He preceded her in death.  Betty worked as a Director of Special Ed Services for Tri County Coop for many years and also as a Diagnostician for Tri County Coop.  Betty and Kenneth started a school in Pottsboro, TX.  She was a member of Cumby United Methodist Church and volunteer.
She is survived by daughter, Vicky France and husband Martin of Cumby, grandson, Christopher Gilbert of Cumby, great-grandchildren, Shane Gilbert, Lane Gilbert, Wade Gilbert, Kyleigh Tadlock, Brantley Tadlock, Jade France, and Tommy Mitchell.
She was preceded in death by her parents.
In lieu of flowers, memorials may be made to Cumby United Methodist Church, 204 East Main Street, Cumby, TX 75433.
Arrangements are under the direction of West Oaks Funeral Home.