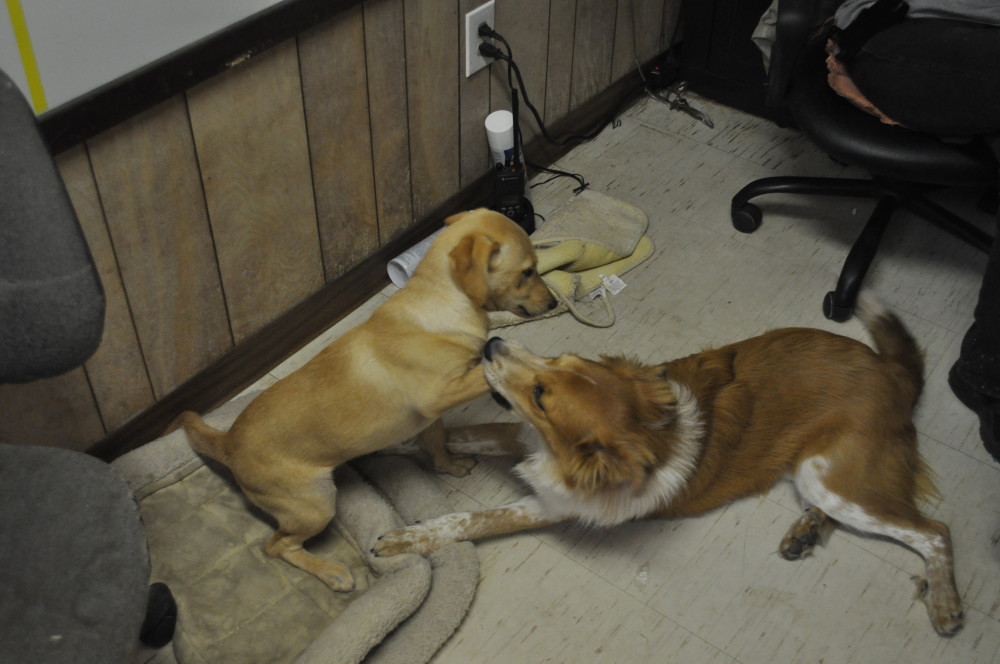 Lilly is a two month old Labrador mix. She is suspected to be mixed with a Retriever or Shepard breed. Lilly was found two weeks ago on August 18th when Animal Control Officers were releasing a wild animal back into the countryside at Lake Sulphur Springs.
"We were actually releasing one of our own wildlife critters, and there she was running around someone's truck and boat trailer," Animal Shelter Officer Brandi Blanch said. "I think somebody dumped her, because she came running to us. She was like 'PEOPLE' and came running."
The Shelter has ruled out the possibility that she may have been lost, as her story has been circulating on Facebook and no one has called in about a lost animal fitting her description. Lilly is an incredibly playful puppy, chasing the Shelter mascot Gracie around the office just to play with her. Lilly has only been able to play with Gracie, as Gracie is the only animal near her size that is able to safely play with Lilly. Due to Lilly's assertive, playful nature, Lilly cannot play with the other recently born puppies.
"She just wants to play and for people to love her," Shelter Officer Annie DeWolfe said. "Every time somebody comes, she sticks her nose through the cage and tries to lick people and whines for people. She just needs a new home."
Lilly will be included in the Off-Site adoption this Saturday from 11 a.m. to 4 p.m. at Tractor Supply. She has received her first round of puppy shots since arriving at the Shelter. Shelter Officers suspect Lilly will grow to a weight of about 40 to pounds, similar in size to Gracie, the mascot dog.