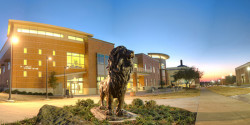 COMMERCE, TX— The Accounting Path has placed Texas A&M University-Commerce on its list of the Best Association to Advance Collegiate Schools of Business (AACSB) Accredited Online Accounting Degrees.
"It is an honor to be recognized for the work that we do. We always want to provide our students with the best educational experience, whether in a traditional classroom or online," said Department of Accounting Chair Dr. Sandra Gates. "We have a rigorous accounting program, taught by well-trained and caring faculty. These are the factors that attract students to our program and the university. This recognition highlights the quality of our program and the quality of the university."
The Accounting Path has chosen Texas A&M University-Commerce because of the A&M-Commerce brand and the university's report of students working for Big 4 firms.
To learn more about The Accounting Path rating, go HERE.
About Texas A&M University-Commerce: Founded in 1889, Texas A&M University-Commerce is a member of The Texas A&M University System.  Located in Northeast Texas, A&M-Commerce is home to more than 12,000 students, four academic colleges, a thriving graduate school, and more than 140 degree programs.  As the region's focal point of higher education, A&M-Commerce offers students facilities ranging from the world-class Keith D. McFarland Science Building and University Planetarium to the Sam Rayburn Student Center, to a fully equipped recreational facility and music hall.  The university also has convenient locations in Corsicana, downtown Dallas, Midlothian, McKinney, Mesquite and Rockwall.