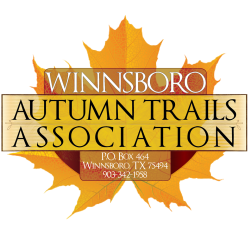 2015 marks the 57th annual Autumn Trails Festival of Events in beautiful Winnsboro, Texas.   This big, bold tradition spans the entire month of October.
This year, the festivities will kick off with a Grand Parade through downtown,  On October 2, featuring local businesses, local celebrities, school groups and a Best Dressed Jeep Contest, sponsored by Elliot Auto Group.   A Best Dressed Pet Contest will follow with three trophies for the Best of the BEST.   That night, a Grand Ball of the Grandest Nature will be held at the Winnsboro Civic Center featuring a local talent line up and awarding the Friends of the Autumn Trails, as well as inductions in the Autumn Trails Hall of Fame, according to Autumn Trail organizers .  Also featured at the Grand Ball will be the Photo and Art Contest Exhibitions. The photo and art contest will be held that day in conjunction with the Center for the Arts in Winnsboro.
October 3 will feature the Coronation of Queen Autumn Trails at the Winnsboro High School Auditorium themed "A Cinderella Ball" to go along with the Grand Ball From the previous nights' festivities.
The second weekend in October will feature 3 events.  Winnsboro's legendary Arts and Crafts, which will be held downtown, the Chili Cook-Off-sponsored by the Gus Garrision Masonic Lodge #1273 (featuring a $500 1st prize) and a Wild West Show featuring 5 performances by The Outlaws Reenactment group, with kids events and prizes.  Wagon rides, barrel train rides, along with contests-including a  stick horse race with a custom stick horse prize and much more also take place the second weekend.  Vendor Spaces are available for these events and information can be found on the Autumn Trails website.
The third weekend is Trail Ride weekend.  Bring your horses and wagons and plan on staying at beautiful Winnsboro City Park, one of Winnsboro's fabulous Bed and Breakfasts, or the Trails Country Motel.   Camping is permitted and this year features a new, Saturday trail to compliment the  traditional, Sunday ride.  The Weekend begins with a Trail ride parade on Friday at 4 pm and also features a Dance on Saturday night with the Darrin Morris Band.  Trail ride awards will be given at the dance.   Trail Ride Weekend also boasts the "Taste of Winnsboro" featuring food from the Autumn Trails Board of Directors and a Pie Baking Contest with prizes to the Best Bakers.  Autumn Trails features a famous 42 Tournament is a favorite for miles around.
Antique Car Weekend draws thousands from Texas, Oklahoma, Arkansas and Louisiana.  Winnsboro is well known for sporting one of the State's largest Antique and Classic Car Parades.  This Winnsboro Tradition features Model A's, Model T's and Classic Cars and Trucks of all types and the local merchants will have Sidewalk Sales and First National Bank is sponsoring a Kids Money Scramble!   Last year Autumn Trails added a Classic Car Show after the parade and it was a huge success!  They expect to doubling entry numbers this year with many awards and free entry for Classic and Antique Cars and Trucks. A big draw for the Antique Car Weekend is the Annual Trades Day and Swap Meet.  People for miles around clean out their garages, barns and attics and take it to City Park to sell and swap!  The motto is " If you can't find it here, you probably don't need it".  This tradition is almost 40 years old!
Finally, the month concludes with the Annual Livestock and Dairy Show at the Jack Cross Pavilion and hosted by the Winnsboro FFA.  With a $10 Entry fee, 8 Showmanship Classes and even Adult Showmanship, it is one of the area's best Livestock Shows.
For more information on the Autumn Trails in Winnsboro, http://winnsboroautumntrails.com  ,Facebook.com/winnsboroautumntrails or call the Autumn Trails Office at (903)342-1958. The Autumn Trails Association is a 501C(4) non-profit organization,  dedicated to providing scholarships to students in addition to providing  community support and development.