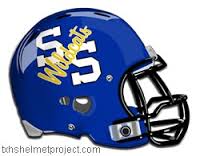 Wildcat Football Season ticket renewal sales are set for Monday, August 10th and Tuesday August 10th. Purchased tickets may be exchanged for unpurchased/not renewed tickets Wednesday August 12th. All remaining season tickets will go on sale to the public Thursday, August 13 and Friday August 14.  The ticket office in the High School Conference Center will be open 8:45 a.m. until noon and from 1 p.m. until 5 p.m. each day. The office will be closed from noon until 1 p.m. each day for lunch.
Ticket renewal purchases must be made Monday or Tuesday. Those who do not renew their tickets by Tuesday at 5 p.m. will lose their season ticket status and will have to wait until Thursday to pick out new seats if their chosen seats are taken on Wednesday.  Ticket holders must have already renewed existing tickets to be eligible on Wednesday to purchase or exchange for any season tickets that were not renewed.
The season ticket is a packet of 5 tickets, one for each home game, and is priced at $50. One must renew their tickets in person or sent their own personal check and a letter of authorization with the person designated to pick the ticket packet or packets for the one renewing. Checks are to be made payable to SSHS or SSISD.
Questions regarding season football tickets may be directed to Dwayne McMeans 903-885-2158, ext. 2205.