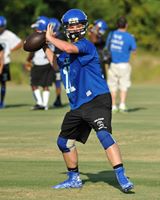 Friday was the first practice day in pads for the Wildcats Football Team. They have now finished their first full week on practice. Wildcats Head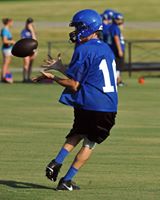 Football Coach Greg Owens said the Wildcats were intense as they developed over the first week. A lot of repetition, good numbers, and  tons of video of practices will combine to assist in preparing for scrimmages the next two weeks and the first game of the season against Rockwall Heath August 28th. Heat has played a role in the practices as well.
Owens said there is still much work to do but players are invested in their preparation. He said the style of offense and defense demands that players step up with desire. Owens said he will be looking for team leaders who will "…demand it and bring it…" over the next two weeks. Some of his upperclassment missed practice due to illness and injury but, Owens said, it gave the younger players an opportunity to show what they can do. He also noted commitment issues as a vital part of the future for some players.
Owens said the great thing is the varsity will be two deep in every postion. The team is 75% there, according to Owens. He said those who were there everyday showed good attitude and that will go a long way in getting the job done.