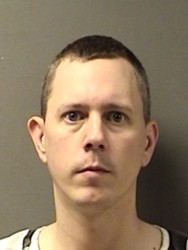 District Attorney Will Ramsay asked a Hopkins County jury to sentence Chase Craig Hudson to 20 years in the state penitentiary for injury to an elderly person, a Felony. D A Ramsay was given his request but not until Wednesday afernooon following lengthy testimony by several witnesses called by the state. Among those witnesses was Sulphur Springs Police Criminal Investigator and SWAT Team leader Rusty Stillwagoner, who testified that he feared Hudson would possibly eventually kill his grandparents. Those to testified for the state included an state Adult Protection worker, law enforcement officers, and Hudson's mother,
The 20 year sentence comes not only for injury to an elderly person but also includes a previous Felony conviction for impersonating a peace officer. Hudson was found guilty of injury to an elderly person Tuesday, August 11, 2015 in 8th Judicial District Court before Judge Eddie Northcutt. The sentencing phase of the trial began Tuesday afternoon and continued until court recessed for the day after 4 p.m. The jury resumed their work Wednesday morning and continued until later afternoon.
Defense Attorney Frank Long opened his arguments for the sentencing phase with a short statement that Hudson is a young man with serious problems. He said Hudson needs help and asked the jury to "be fair and honest with themselves."
Hudson was 33 years of age when he was arrested August 6, 2014 for assaulting his grandparents and interfering with a 911 call. The disturbance took place in the 1800 block of Main Street just before 1 p.m. on the 6th. Hudson locked himself in a room and refused to talk with a police negotiator for 45 minutes, at which point some Special Response Team officers put gas into the room. Hudson then surrendered without incident.
During the trial as well as in the sentencing phase, 9-1-1 recordings were played and those affected by Hudson's actions was called to testify.