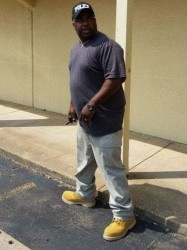 Sulphur Springs Police Chief Jay Sanders has issued an alert for local businesses, especially those located along the interstate. A series of robberies similar to one that took place in Sulphur Springs June 21 occurred last night in near-by cities along I-30. It happened again Saturday night in the city. At 6 p.m. Saturday Evening at the Day's Inn. Over the weekend, the same type of robbery took place at the T A Travel Center in Rockwall and in motels in Greenville, Mount Vernon, and Mount Pleasant. Late Monday, the local police department released a picture of the possible suspect. The picture was provided by a surveillance camera at one of the crime scenes.
The unknown individual is described as a black male 30-40 years old, between 5-feet 9-inches and 5-feet 10-inches tall, weighing, 200-240 pounds, wearing a dark colored shirt, tan pants, a black cap that has the word police. His accessories included a badge, a radio on his belt with what looks like a gun. He used a different auto in each city.
On June 21 of this year, the Sulphur Springs Police Department was alerted to a man flashing a badge, claimed to be a peace officer, and took money and belongings from several people as part of what he said was a criminal investigation.  That incident happened at a Shannon Road veterinary clinic.  When officers arrived, the man was gone.