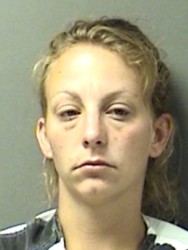 A 30-year old Terrell woman and a 37-year old Rockwall man were arrested early Thursday morning at a Hopkins County resident south of Como where they were staying in connection with a Kaufman County theft case. Lydia Ellen Campbell has been charged with possession of a controlled substance, theft over $1500 and child endangerment before JP B.J. Teer who set bonds totaling $55,000.
After his wife had a magistrate's hearing Friday, later in the day 37-year old Michael Dale Campbell (no picture available) was charged with child endangerment, theft, possession of a controlled substance and unlawful possession of a handgun.  JP BJ Teer set bonds totalling $75,000.  Hopkins County Sheriff's deputies arrested the couple at a FM 69 residence Thursday for stealing a trailer and lawn mower tractor out of Kaufman County.
Hopkins County Sheriff's Chief Criminal Investigator Lewis Tatum said Kaufman County contacted local law enforcement early Thursday morning alerting the locals to the location of the pair at a residence near Como. The pair had in their possession items taken in a theft in Kaufman County. A trailer and lawn mower were recoved. A search warrant was issued and following a search, other items stolen in Kaufman County were located at the residence. Also, items taken in a Hunt County burglary were found. During the search, drug paraphernalia, methamphetamine, and a weapon were found. Children present in the residence were surrendered to Child Protective Services.
Tatum said they were also checking out Hopkins County burglaries in which the couple may have been involved. He stated that often burglaries are conducted outside the county of residence. The pair is in Hopkins County jail but will probably be transferred to Kaufman County later.