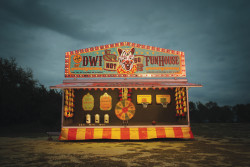 As summer celebrations enter their final weeks, the Texas Department of Transportation is taking its "DWI Not So Fun House" to community events across the state as part of its "Drink, Drive, Go to Jail" campaign. The vintage-style interactive carnival trailer allows the public to experience the dangerous and potentially deadly effects of impaired driving.
"Don't turn your summer fun into a life-changing tragedy by being irresponsible when it comes to drinking and driving," said TxDOT Deputy Executive Director John Barton. "A safe and sober ride should be at the top of your list when making plans with family and friends. If not, you run the serious risk of being pulled over by law enforcement, being killed or killing someone else. It's just not worth it."
The "DWI Not So Fun House" allows visitors to see and experience the simulated effects of alcohol on motor skills and driving. Participants wear vision-blurring "drunk goggles" and try to complete simple, eye-hand coordination tasks while being "impaired." The slowed reaction times and distorted perception are designed to remind Texans about the deadly risks of drinking and driving, and encourage them to always plan for a sober ride.
Last summer in Texas, 336 people were killed and 680 were seriously injured in alcohol-related crashes. Texas drivers convicted of DWI face up to $17,000 in costs, possible jail time, limited career prospects and loss of driver license. In an effort to curb impaired driving, TxDOT's "Drink, Drive, Go to Jail" campaign is supported by increased law enforcement efforts between Aug. 21 and Sept. 7.
TxDOT strongly encourages everyone to plan for a sober ride before going out. Visit SoberRides.org to find alternatives to drinking and driving, such as:
Calling a taxi or using a transportation app on your smartphone.
Using mass transit.
Asking a sober friend or family member for a ride home.
Staying put.