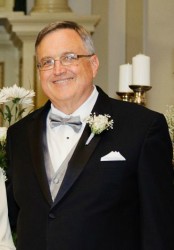 A service to celebrate the life of Stephen Longino Bonner, 63, will be held at 2:00 p.m. Wed. at First Baptist Church, with the Reverend Dr. David Hardage officiating. The family will receive visitors from 6 – 8 p.m. Tues. at West Oaks Funeral Home.
"Bubba" was born in Sulphur Springs, Texas, to Lou Jane Longino Bonner and Daniel Edwin Bonner. He was the grandson of D. R. and Naomi Addams Bonner and Dr. S. Byrd and Una Lou Carothers Longino. He married Catherine Cobb Brandon on March 18, 1978.
He is survived by his wife, his mother, and his two children and their spouses: Catherine Carroll Bonner Crowson and her husband, Grady Jack Crowson, of Woodway, Texas; Edwin Benning Longino Bonner and his wife, Megan Leah Vogt Bonner, of Lincoln, Nebraska; three grandchildren: Mac Edwin Holt Bonner and Brooks Edwin Vogt Bonner, of Lincoln, Nebraska; and Grady Jack Crowson, Jr., of Woodway, Texas; two brothers: Dr. Daniel Edwin Bonner, Jr., and his wife, Sue Smith Bonner; Byrd Lowry Bonner and his wife, Patty Riggle Bonner; six nieces and nephews and their families; three cousins and their families.
Pallbearers are Perry Altenbaumer, Tim Glenn, Dr. James B. Longino, Joseph B. Longino, Stephen B. Longino, Travis H. Longino, Dr. William S. Longino, Garry McClung,  Dr. Dan Roper, and Joel Sheffield.   Honorary pallbearers are Mac Bonner, Brooks Bonner, Jack Crowson, and members of the D. R. Bonner Sunday School Class.
Stephen graduated from Sulphur Springs High School in 1970. He served as president of the National Honor Society and was a three-year letterman of the Wildcat football team. He also attained the rank of Eagle Scout. In 1974 he graduated from Vanderbilt University, where he was a member of the Phi Kappa Psi national fraternity. He began his business career as a wholesale hardware salesman, following in the footsteps of his father and grandfather. As he traveled the roads of East Texas, he developed lasting friendships with his customers. Upon completion of his hardware career, he followed his first love of teaching as a special education teacher in the Cooper ISD.
Stephen enjoyed a lifelong love of sports and had a wealth of trivia readily available for discussion with his many friends. He served on the selection committee for the Wildcat Hall of Honor.
He loved his community and served as a city council member beginning in 1981, including time as mayor. Following his time in city government, he served on the board of directors of Hopkins County Memorial Hospital. He was a member of the Rotary Club and a Paul Harris Fellow.
Stephen was a member and ordained deacon of First Baptist Church, where he taught a men's Sunday school class for thirty years. His special ministry was to children, and he was a beloved fixture in the Preschool department of First Baptist Church, where he shared his love of Jesus Christ with many.