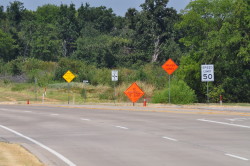 Motorists who frequently travel on SH 19 north of Sulphur Springs in Hopkins County should be on the alert for road construction there beginning Aug. 27.
That is the date for contractor NY-MAC Enterprises to begin repairs to rehabilitate this roadway. Rough spots will be removed and a new surface overlay will be installed. The contractor was granted 48 working days to complete this project at a cost of more than $1.2 million, TxDOT officials said.
The work will stretch from the Hopkins-Delta County line southward to Loop 301 around in Sulphur Springs. This project to improve Hopkins County roads should be completed in September 2015, weather permitting.
TxDOT officials ask motorists and other travelers to use alternate travel routes wherever possible. If not, they advise motorists to approach work zones cautiously, drive to existing road conditions without distractions such as cell phones, obey all traffic controls and be prepared for some short delays while this work is underway. Flaggers will be present along this route to alert drivers to changing road conditions and guide motorists through the area safely.