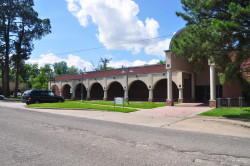 Sulphur Springs Public Library announces our new Storytime beginning September 4 in the Storytime room at the library on the first and third Fridays of every month through May at 10:30am
The Very Ready Reading Program for preschoolers and their parent/caregiver uses books, music and activities to encourage the lifelong benefits of early literacy for your child.
Ten Powerful Reasons to share books with 2 and 3 year olds
Opportunity for a parent and child to spend time together and bond in a positive way.
Developing a love of books and a positive attitude toward reading occurs naturally when parents demonstrate a love of books and reading.
Nurtures a love for reading and books.
Teaches how to handle books.
Offers rich language experiences and larger vocabularies.
Introduces fine arts through a variety of media and styles used in illustrations and storytelling through art.
Stimulates brain development and increases attention span.
Sharing picture books provides opportunities to participate verbally through repetition of words and phrases.
Increases vocabulary. Books contain unfamiliar or rare words that are not often heard in everyday speech.
A child's success in learning to read is linked to his or her early literary experiences with books.
Research has repeatedly shown how important parent-and-child interactions are in the development of early literacy skills.  Sharing books and language with children is critical in preparing them for reading success.  The 7 Days-7 Ways philosophy recommends seven activities that can be shared with children on a daily basis:  Share Books, Words, Rhymes, Songs, Stories, Writing and Playtime.
At birth, a baby can have 100 billion brain cells, but only a small number of these cells are connected.  Brain connections are established when a child has repeated sensory experiences like seeing, hearing, tasting, touching and smelling. These actually come naturally when interacting with a child. The great part of this program is the three most important things a baby's brain development needs from the parent is as easy as ABC:  give your baby Attention, Bonding and Communication!
Please call the library at 903-885-4926 if you have any questions.