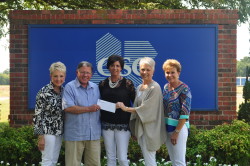 Donna Rudzik, Gloria Mitchell and Polly Swatsell, the 2015-2016 Lights of Life Campaign chairs, are excited, grateful and humbled to announce that GSC, Inc., Mickey and Barbara McKenzie have committed to be a $20,000 DIAMOND Sponsor of the campaign. The presentation was made Tuesday, August 4th at 11 a.m. at GSC corportate offices.  "That's our 3rd DIAMOND sponsor" exclaimed Polly Swatsell.  "We are so blessed to have three DIAMOND sponsors"!  We just thought we'd try the higher level in celebration of the 20th anniversary of the Lights of Life tree lighting campaign.  We were hoping we'd get one, now we have three; Carriage House Manor and The Cottages, Arvis and Sheila committed first, then CHRISTUS Health, now GSC, Mickey & Barbara; we couldn't be more humbled" said Swatsell.
"The gala is already sold out and this is only August 4th" stated Gloria Mitchell.  "This is the earliest we've ever sold out", Mitchell continued.  "We are thrilled with the response we have received".
"Now that the gala is sold out, we can now focus on our  other mini-event" Donna Rudzik commented.  We have our Style Show coming up September 17th where Fall fashions will be presented by Lou Nell's;  the 2nd Half Marathon is planned for October 3rd; Holly Ragan and her team are busy working on that; the 2nd "Sassy Classy" Fall tea is planned for October 8th at City Hall, and then we have our "Fly Your Flag" bidding and lunch on November 10th.  Yes, things really moving fast" said Rudzik.
"This commitment is so exciting for the Foundation.  This is the first time we've offered a $20,000 sponsorship level and to have three is a real blessing" commented Jackie Thornton, Foundation Director.   "These ladies are definitely overachievers and I'm just trying to stay up with them", continued Thornton.  "We are very thankful for all our sponsors that have committed their financial support to the campaign. Without the support of this generous community the Foundation would not be where we are today.  We are so blessed and humbled" said Thornton.
The funds raised through the 2015-2016 campaign will be  used to purchase;
Six LUCAS CPR devices for EMS which will provide the EMS Department the tools and abilities they need to improve survival rates during cardiac arrest. The LUCAS CPR provides consistent and quality chest compressions without the need to stop compressions to perform other clinical procedures.
And additional funds will be added to the Foundation "Leaving a Legacy" Endowment Fund.
For more information about the 2015-2016 Lights of Life campaign and gala, please call the Health Care Foundation office, 903-438-4799.  We hope you will join us as we work hard to make a difference for the hospital and the community.