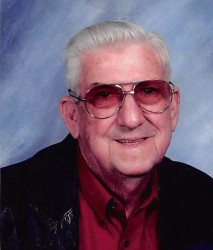 Funeral service for Master Sergeant Morris W. Abercrombie , 82, of Sulphur Springs will be held at 10:00 a.m., Tuesday, August 4, 2015 at First United Methodist Church with Rev. Pete Adrian officiating. Interment will follow at Restlawn Memorial Park with Military honors by The Hopkins County Military Coalition and with Jay McClendon, Reece Booher, Larry Godfrey, Shem Ray III, Jacob Landers, Keith Ashmore, and Harlan Hammond serving as pallbearers. Honorary pallbearers will be General Charlie Wilson, Robert Carpenter, Bill Hodge, Dan Hinton, Rex Flippin, Joe Harry, Sam Sevier, Winston Perkins, Doreen Bryant, Vicky Latimer, members, of The National Guard and the Class of 1950. Visitation will be held Monday, August 3, 2015 at West Oaks Funeral Home.
Mr. Abercrombie passed away Sunday, August 1, 2015 at Hopkins County Memorial Hospital. He was born December 23, 1932 in Cartwright, TX to Edgar Milo Abercrombie and Jessie Sarah Francis Morris Abercrombie. He married Barbara Gideon on April 25, 1954 in Hugo, OK, she survives. Master Sergeant Abercrombie was a member of The National Guard for 43 years and 7 months, with 35 years of that time as full time at the National Guard Armory. During this time he earned several medals and commendations such as, the Army Commendation Medal, Army Achievement Medal, Army Reserve Components Achievement Medal, National Defense Service Medal, Armed Forces Reserve Medal (with 13 hour classes), which he taught at the National Guard Academy in Little Rock, AR, Austin, TX, and LaCrosse, WI, NCO Professional Development Ribbon, Lone Star Distinguished Service Medal, Adjutant General's Individual Award, Federal Service Medal, The Minute Man Award (one of the highest awards given in the Texas National Guard), Texas Faithful Service Medal (with 2 bronze acorns and 1 silver acorn), He worked at the Pentagon in Washington DC on special assignments for six weeks, and was on the National Guard Association of Texas board of directors for six years representing the 3rd Battalion. Mr. Abercrombie was a member of the First United Methodist Church.
In addition to his wife, he is survived by his son, Tony "Abbo" Abercrombie, and wife Martie of Sulphur Springs, sisters, Edna Carrow of Hideway Lake, Francis Landefeld of Phoenix, AZ, brother in-law Bob Gideon and wife Ann, sister in-law Gilda Landers and husband Larry of Sulphur Springs, grandchildren, Adam and Jennifer Abercrombie of Mineola, Shannon and Aaren Adams of Frisco, Brad and Holly Abercrombie of Arlington, Crystal and Bryan Sparks of Royse City, Brandon and Emma White of Saltillo, and James McBrayer of Denton, great-grandchildren Parker Abercrombie, Madison and McKynlee Adams, Brailey and Rylan Sparks, Amberley, Hallie, and Hannah White, many nieces and nephews.
He was preceded in death by his parents, son, Terry Abercrombie, brothers, Loyd, Dennis, and Weldon, sisters, Lonie Pittman, Mozelle Jones, and Ruth Harrington.
In leiu of flowers donations may be made to The Hopkins County Veterans Memorial Fund or The Dinner Bell of First United Methodist Church. Arrangements are under the direction of West Oaks Funeral Home.