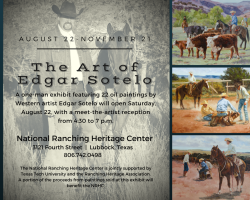 National Ranching Heritage Center in Lubbock will feature Hopkins County artist Edgar Sotelo in a one man exhibit featuring 22 of his paintings Saturday, August 22. He will also participate in a meet-the-artis reception from 4:30 to 7 p.m.
Western artist Sotelo is a fourth generation artist who was born in Durango, Mexico. He came to the U.S. to attend Texas Tech University. He graduated in 1988, putting himself through school in part by selling pencil drawings to pay expenses. At the urging of his wife Michelle, Edgar began to experiment with oil painting in the early 1990's, and later began to "go west" to ranches during spring and fall roundups, photographing and sketching scenes as reference materials for paintings.
His paintings of cattle, horses and working cowboys capture the "code of honor" of the American West. His many awards and recognitions also include realistic, vibrant depictions of scenes from "charreadas", or Mexican rodeos. In 2014, Edgar was named Signature Artist at "America's Horse in Art" at the American Quarter Horse Association Hall of Fame in Lubbock. In 2015, he received the "distinguished alumni" award from Texas Tech University College of Animal and Food Science and was honored with a one man show at the National Ranching Heritage Center there. His work was also featured at the 2015 Cattleman's Beef Association national convention.
Edgar and Michelle's three artistic daughters attend school in Sulphur Springs and hope to follow in their father's footsteps. The family also raises La Joya quarter horses on their home range in Hopkins County.