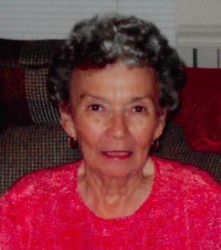 Graveside Funeral services for Lillian Glover Kinsala, age 91, of Sulphur Springs, TX, will be conducted at 3:30 p.m., Thursday August 6, 2015 at Restlawn Memorial Park with Rev. Pete Adrian officiating.  Pallbearers will be, Connor Cooper, Cole Cooper, Derek Cooper, Wayne Cooper, Andy Eddins, David Eddins, John Vercellino and Michael Winbery.  Visitation will be from 2:00 p.m. – 3:00 p.m., Thursday, August 6, 2015, at West Oaks Funeral Home.
Mrs. Kinsala passed away Friday, July 31, 2015 at The Cottages of Carriage House Manor. Mrs. Kinsala was born on November 3, 1923, the 3rd of 5 daughters to the late Arthur and Rosa Burris in San Antonio, TX.  She married Paul Glover, Sr. on September 4, 1942 in San Antonio, he preceded her in death on November 23, 1961.  She then married Ray Kinsala on July 28, 1974 in Kerr County, TX and he preceded her in death on January 28, 2000. Mrs. Kinsala was a retired Civil Service employee with Randolph Air Force Base in San Antonio, she was a member of the Order of The Eastern Star, and was of the Methodist faith.  She is survived by son, Paul Glover and wife Cerita of Sulphur Springs, daughter, Sharon Patricia Moss of Myersville, MD, grandchildren, Tammy Cooper and husband Wayne, Suzanne Eddins and husband David all of Sulphur Springs, Lisa Vercellino and husband John of Houston, Michelle Sweet and husband Douglas of Myersville, MD, and David Cribbs of San Antonio, great grandchildren Derek Cooper and wife Shelbi, Katie Cooper, Connor Cooper, Cole Cooper, Kylie Cooper, Ally Eddins, Andy Eddins, Michael Winbery, Samantha Vercellino, Corey Vercellino, Brittany Sweet and Christopher Sweet, great-great grandchildren, Gentri Cooper, Gus Cooper and Dylan Dennison, and a host of nieces, nephews, and other family and friends.
She was preceded in death by her parents, husbands, and four sisters.
Arrangements are under the direction of West Oaks Funeral Home.