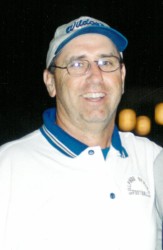 Memorial services for Lee Avery Daniel, age 64, of Sulphur Springs will be held at 3:00 p.m., Sunday, September 6, 2015 at First Baptist Church in Sulphur Springs; with Chuck King officiating, and Stacy Cody and Jason Stanley assisting.  The visitation will be held one hour prior to service, at the church.
Coach Daniel passed away on Monday, August 31, 2015.  He was born on February 15, 1951, the son of James Hershel and Mary Lee (Spinks) Daniel, in Albany, GA. Mr. Daniel earned his Masters at Arkansas State University and was a coach in the Sulphur Springs Independent School District for almost 20 years. He finished up his coaching career at Canton ISD. He was a member of League Street Church of Christ, and was a supporter of Doulos and the Fellowship of Christian Athletes.
He is survived by his daughter, Summer Wright, of Cooper; two sons, Slade Daniel, and wife Kendra; and Spenser Daniel, both of Sulphur Springs; sister, Jean Aker; brother, Bobby Daniel; and eight grandchildren; Lawyer Wright, Lott Wright, London Wright, Linkon Ford, Ryker Daniel, Hank Daniel, Bentley Daniel and Layton Daniel.
He was preceded in death by his parents; two brothers, James Daniel and William P. Daniel; and two sisters, Sue Boltz and Martha Jones.
Murray-Orwosky Funeral Home is in charge of the arrangements.