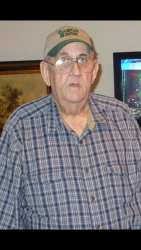 Jimmie Dean Spence, 73, of Emory, Texas was called home to be with the lord on August 29, 2015, while surrounded by his loved ones. Jimmie was born in Emory, at home, on May 5, 1942 to Lena May Spence and John Doss Spence. He enjoyed his career as a journeyman Electrician for many years for Murr Bros Electric in Dallas. Jimmie and his bride Edna Lois Spence, who were the first to be married at the Emory courthouse on New Year's Day in 1960, had a beautiful life together. They lived in Dallas for many years, before moving permanently to their farm in Hogansville. Jimmie was honored to share his middle name with his son Ronald Dean, grandson Justin Dean and great-grandson Jackson Dean.
He will be greatly missed and forever in the hearts of their 3 children Randall and wife Beatrice Spence of Emory, Sherri Burnside of Greenville, Ronald Spence of Pennsylvania, grandchildren Christina of Dallas, Kevin and wife Nicole of Caddo Mills, Kerry and wife Caitlyn of Quinlan, Jennifer and husband Robert of Princeton, Justin and wife Abigail of Pennsylvania, and Robert of Emory, and 10 beautiful great-grandbabies. Jimmie is preceded in death by his wife, parents, and 3 brothers.
Graveside services will be held at 11 a.m. on September 1, 2015 at Pilgrims Rest #1 under direction of Wilson-Orwosky Funeral Home with Chaplain Angi Brown officiating.