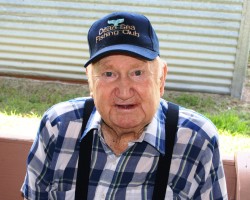 Masonic Funeral services for James Leroy Tucker, age 89 of Sulphur Springs will be held at 10:00 a.m., Thursday, August 27, 2015 at Murray-Orwosky Funeral Home with Bro. Mike Maxon and Bro. Bob Woodworth officiating.  Masonic services will be provided by the Commerce and Sulphur Springs Masonic Lodges.  Interment will follow at 3:00 p.m., Thursday, August 27, 2015 at Grove Hill Memorial Park in Dallas with his nephews, Buff Tucker, Steve Tucker, David Tucker, William Earwood, Jason Tucker, Brady Hunt and Lance West.  Visitation will be held from 6:00 to 8:00 p.m. on Wednesday, August 26, 2015 at Murray-Orwosky Funeral Home.
Mr. Tucker passed away on Monday, August 24, 2015, at his residence.  He was born on March 28, 1926 in the Willow Oak Community, north of Ridgeway, Hopkins County, TX to the late Harley Wright and Eva Lee Reed Tucker.  He attended school at Willow Oak and Branom, Hopkins County.  He married Ruby Marcille Barrington on January 18, 1947, in Commerce.  He made his home in Dallas for thirty-five years before returning to Hopkins County.  He was a Teamster and a truck driver for Santa Fe Trail Transportation Company.  While working as a truck driver he received many safe driving awards including a one million mile award for safe driving in the City of Dallas.  After his retirement, he was a rancher in the Mt. Zion Community.  When his health no longer allowed him to do the work he loved, he moved to Sulphur Springs.  He was a member of the Mt. Zion Baptist Church, Cumby; a sixty-five plus year member of Jewel P. Lightfoot Masonic Lodge #1283, Dallas, member of Woodmen of the World and Order of the Eastern Star.  He enjoyed being with his family, deer hunting and playing dominoes.
Survivors include his wife of sixty eight years; daughter, Sonja Anita Holton and husband, Greg of Sulphur Springs; son, James Leroy, II (Jim) and wife, Patty of Kapolei, Hawaii; two brothers, Cullen Tucker and wife Dorothy and Glendale Tucker of Cumby; brother-in-law, Vernon Hill of Landonia; one sister, Odell Tarpley of Cumby; sister-in-law, Lora Tucker; three grandchildren, Holly Holton-Hoffman and husband, Mark of Arlington, Dallas Tucker and wife, Briana of Seoul, South Korea, Kyle Tucker and wife, Nicole of Lancaster, PA; three step-grandchildren, Todd Pulver and wife, Joelle of Reno, NV, Sarah Pelletier of Herndon, VA, Ryan Shalm and husband, Jordan of Janesville, WI; twelve great-grandchildren, Elias and Lawrence Tucker, Justin, Tree, Jimi and Tripp Pulver, Gable and Campbell Pelletier, Cash and Dylan Shalm, Carson Tucker and Harlow Hoffman.
He was preceded in death by his parents; brothers, Thomas, Warren and H.W. and sisters, Annn Earwood, Hazel Gregor and Fern Hill.
Memorials can be made to the American Diabetes Association or the charity of your choice.
The family would like to thank Dr. Richard Selvaggi, First Choice Home Health, the staff at Fresenius Medical Care (dialysis), Hospice Plus and the many other health care providers who have helped with James' care during his lengthy illness.