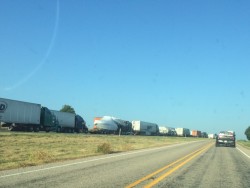 Traffic on I-30 West bound just east of Greenville stopped early Friday morning following a three (3) vehicle accident created by a wrong-way driver. West bound traffic halted near the Farmers Electric Coop offices when an east bound driver in a silver Mercury in the west bound lane struck an SUV with five (5) teens and then that SUV burst into flames when it was struck by a semi-truck and trailer. The accident occurred around 2 a.m. The roadway was finally cleared near mid-morning.
Three teens, traveling from Alabama to Austin, in the SUV died at the scene and one was taken to Hunt Regional Hospital while another was transported to Parkland Hospital by helicopter, according to DPS. The driver of the Mercury died as did the dog with him.
KSST listeners called to report what they viewed at the scene. Many traveling from Sulphur Springs and Hopkins County toward the metroplex found other routes of travel Friday morning.