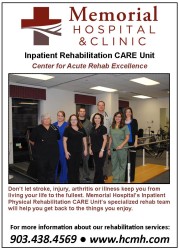 A team approach is utilized for recovery in the Memorial Hospital Inpatient Rehabilitation Care Unit. "Don't let stroke, injury, arthritis or illness keep you from living your life to the fullest" is their motto. Memorial Hospital's Inpatient Physical Rehabilitation CARE Unit's specialized rehab team will help individuals get back to the things they enjoy. The unit is open 24 hours a day, 7 days a week with an experienced physician, rehab nurses, physical, occupational and speech therapists along with on-site hospital services such as respiratory, laboratory, medical imaging and pharmacy services providing quality care. The Inpatient Rehabilitation Unit can meet specific needs of each patient.
The CARE Unit was initiated in 2003 when Memorial Hospital entered into a contract agreement with Horizon Health in order to provide management and rehab specific policies and procedures to achieve program accreditation with The Centers for Medicare and Medicaid Services. Over the last 12 years of service in the community, an estimated 1,700 patients have been served in the Hopkins and surrounding counties.
The CARE Unit offers comprehensive physical rehabilitation for: Acute Rheumatoid & Osteoarthritis; Amputations; Brain Injury; Hip & Knee Replacement; Major Multiple Trauma; Neurological Disorders; Other Debilitating Conditions; Spinal Cord Injury; and Stroke.