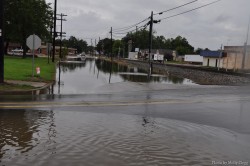 Hopkins County is one of 110 Counties Eligible for FEMA Disaster Aid. Nineteen more Texas counties are now eligible for Federal Emergency Management Agency (FEMA) disaster aid. The aid includes all categories of work, including debris removal, emergency protective measures and infrastructure repairs in the wake of severe storms, tornadoes, straight line winds and flooding in Texas from May 4 to June 22.
Eligible applicants in Bosque, Brazoria, Collingsworth, Colorado, Coryell, Duval, Erath, Hall, Hardin, Jim Wells, Lubbock, McLennan, Palo Pinto, Shelby, Smith, Somervell, Tom Green, Washington and Young counties can now apply for FEMA Public Assistance (PA) reimbursement for repairs to roads and bridges, water control facilities, city- and county-owned buildings and equipment, utilities, parks and recreational facilities and other public as well as some private facilities.
Supplementary funding under the PA program goes to the state and its agencies, local governments, and certain private nonprofit organizations. Under the program, FEMA obligates funds to the state for 75 percent of eligible costs, with the state and local governments sharing the remaining 25 percent of costs. The state forwards the federal funds to the eligible local governments or organizations that incurred costs.
Previously, 91 counties were designated as eligible for FEMA's Public Assistance Program: Angelina, Austin, Archer, Atascosa, Bastrop, Baylor, Blanco, Bowie, Brown, Burleson, Caldwell, Callahan, Cass, Cherokee, Clay, Comal, Comanche, Cooke, Dallas, Delta, Denton, DeWitt, Dickens, Eastland, Edwards, Ellis, Fannin, Fayette, Frio, Gaines, Garza, Gillespie, Gonzales, Grayson, Grimes, Harris, Harrison, Hartley, Hays, Henderson, Hidalgo, Hill, Hood, Hopkins, Houston, Jack, Jasper, Johnson, Jones, Kaufman, Kendall, Lamar, Lee, Leon, Liberty, Lynn, Madison, Milam, Montague, Nacogdoches, Navarro, Nueces, Newton, Orange, Parker, Polk, Real, Red River, Refugio, Robertson, Rusk, Sabine, San Augustine, San Jacinto, Starr, Tarrant, Throckmorton, Travis, Trinity, Tyler, Uvalde, Van Zandt, Victoria, Walker, Waller, Wharton, Wichita, Williamson, Wilson, Wise and Zavala.
For more information on Texas disaster recovery, visit www.fema.gov/disaster/4223. You can follow us on Twitter at https://www.twitter.com/femaregion6 or on Facebook at www.facebook.com/FEMA.
For information on the Public Assistance process go to: https://www.fema.gov/public-assistance.