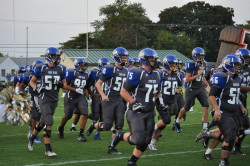 The Wildcats' football team hung with Rockwall-Heath for half of the season opener Friday night at Prim Stadium.  The score at the half was Rockwall-Heath 22 and Sulphur Springs 17.  Then the Hawks dominated the second half on both sides of the ball to take a 43-17 win.
Wildcat back Jaylon Hawkins scored two rushing touchdowns for the Wildcats including a 57-yarder.  He had a 66-yard TD run wiped out by a holding penalty.
In the first half, the Wildcats defense appeared to hold the Hawks on fourth down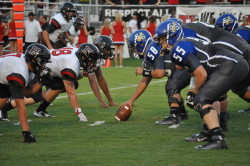 on the goal line but an offsides call gave Heath another chance and they scored.  Julio Robles also kicked a field goal.
The Wildcats travel to Sherman Friday night.